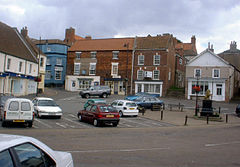 The town and civil parish of Caistor is in the West Lindsey District of Lincolnshire and sits upon a hill, at almost the highest point in Lincolnshire on the north-west edge of the Wolds. It is close to the Viking Way, and just off the A46. The population is around 2,600.
The town's attractive market square is a conservation area, in part because it has 56 listed buildings, most dating from the Georgian and Victorian periods. Notable buildings include Sessions House (built in 1662), Caistor Grammar School (founded in 1633) and Caistor House (built in 1682 and displaying the coats of arms to the Walpole and Wickham families.)
Many springs enter the town from the surrounding chalk hills. One such, Syfer Spring, beside the churchyard, on Fountain Street, is an ancient holy well that probably predates the Romans. The water flows out of a brick wall and into a small pool. (It used to flow on across the road to supply a brewery, but the brewery is now long gone.)
The church dates from Norman and Saxon times. See: https://caistor.parish.lincolnshire.gov.uk/parish-information/church-news/1
The town has two schools: Caistor Grammar School, which dates from the reign of Charles I, is an academy with a selective intake, with specialist school status in sports and humanities. https://www.caistorgrammar.com
Caistor Yarborough is a mixed comprehensive, named after John Edward Pelham, the 7th Earl of Yarborough. It became an academy in 2012, has a maximum of 570 pupils and has Arts College status. http://caistoryarboroughacademy.co.uk
The nearest railway station is Barnetby, served by TransPennine Express and East Midlands services. Humberside Airport is a short distance to the North.